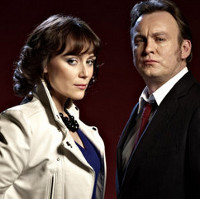 As I write this the final episode of Ashes to Ashes season 2 will air tomorrow evening.  Like Alex Drake, time is running out for me – I must speculate now or it will forever be lost to the past.
Since recording the last podcast (on Monday the 1st of June, overlapping with Ashes to Ashes 2.7) I have now had a chance to see the penultimate episode of season 2.  Or series 2, if you prefer, but that is even more confusing in the context of Life on Mars/Ashes to Ashes – during the podcast the phrase 'the first series' was used.  Did we mean Life on Mars in general or just Ashes to Ashes season one?!  We meant the latter in that case.  But I'm drifting!
I was clearly very wrong on my assumption that the mysterious 'young' Martin Summers was actually the 'time travelling' middle aged Martin Summers who had, somehow, assumed a different appearance.  Keith was very correct – there were two Martin Summers, the 2008 version and the 'native' 1982 version.  Does that mean he cannot change his appearance? Probably. Does this put paid to my theory that Martin Summers is, in reality, Sam Tyler in disguise? Most probably but not certainly. Is Fake Keith's £5 bet with me, that it is Gene Hunt in the hospital bed AND that Martin Summers is Sam Tyler, in danger? I think so!
Ever since the final episode of Ashes to Ashes season one, there has been a new wrinkle of doubt about the 1980s reality. Did Gene Hunt save the young Alex Price (or Drake, as we now know her) in the real 1981? Alex's flash backs to the event, before she relived it in her coma, suggests he did. How is that possible? Is/was there a real Gene Hunt? Perhaps the 2008 Gene Hunt (who, assuming he's 46 in 1982 (Glenister's current age) would be about 72 in 2008) is in a coma along with Alex and Sam Tyler before her? Maybe but I don't quite buy it. As for him being the man in the 2008 hospital bed that we saw in the first scene of Ashes to Ashes 2.1, no, I think the hints that he is Martin Summers are too strong for that.  That would also displace Summers and, rather late in the game, raise the question as to what/where is he in reality.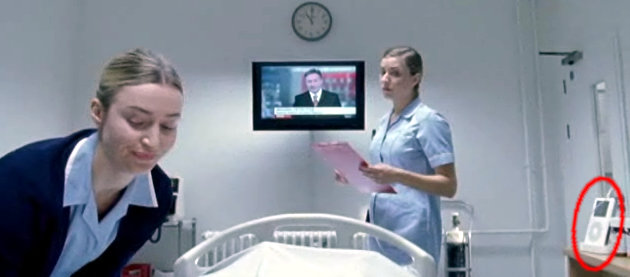 As for Martin Summers – "The first man ever to live through a successful suicide attempt!"  What does his killing of his younger self tell us? That just leads me back to thinking this 1982 world is a fiction, as we all (Alex included) originally thought.  But if none of this is real, why is Summers going to so much trouble to put 'Operation Rose' into operation? Personally, I think it is a fiction. Somehow a shared fiction, a shared unconscious.  But there are rules to it, nonetheless.  A powerplay to break the reality?  Summers claims to be able to leave 1982 anytime he wishes.  Is he just staying for entertainment then?  What's the point?  The only 'real' thing he can influence is Alex's mind but when she wakes up I can't see how any hold on her would persist into the real world.  My speculation runs dry here.  I can't see Martin Summer's motivation or goal.  Operation Rose?  Clearly he needs a lot of firepower and he couldn't wield all that on his own.  Looks like he's planning a little war.  Revenge against someone in power?  A fantasy revenge he can play out but, at the end of the day, it doesn't mean anything in reality.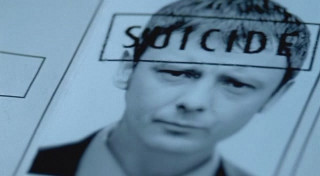 So, Sam Tyler.  Is he dead? I was absolutely convinced he was in that final episode of Life on Mars.  I always read that as him committing suicide.  I know others didn't see it that way at the time but the writers confirmed that and the files Alex Drake had on him quite clearly say 'Suicide'. So why the sudden doubt?  For one thing, the rumours that a Life on Mars star (that isn't already part of Ashes to Ashes!) will be turning up in Ashes to Ashes season two.  The general assumption is that it would be Annie (who Sam Tyler apparently married in the 1970s years that were, in reality, his last seconds of life in 2006).  But what would be the point of Annie turning up if that isn't a pretext for Sam Tyler to return?  Perhaps the whole 'returning character' thing was nothing but misdirection, there to make us think that Martin Summers is Sam Tyler?  Possibly.  We'll find out tomorrow evening, I suppose.  Still, I quite like the idea of Alex and Sam meeting up.  Are those reports of a third and final Ashes to Ashes season true (that will wrap up BOTH Life on Mars and Ashes to Ashes)?  What of that old fashioned iPod, that we so closely associate with Sam Tyler, that appears alongside Martin Summers' 2008 hospital bed?  More misdirection?  So small that only the real fan will see it – just the sort of people they would try to misdirect.  I do think Sam Tyler is dead but I can't help but like the idea that the fifth and final season of the Life on Mars/Ashes to Ashes saga might end with both Sam and Alex working together.  It probably wouldn't work, though – I'm not sure even Gene Hunt could cope with both of them!
So the big ending tomorrow?  Obviously the 'evil' Martin Summers has to be dealt with.  Death in 1982 means death in 2008?  Probably.  That will prompt some big reveal about the nature of 1982 which will push us into a slightly different direction for next season.  Perhaps Alex will gain the ability to move between 1982 and 2008.  That raises the question of why she would ever leave her daughter, Molly, for 1982 again, though…
Also, has anyone else noticed that the amount of the 1980s compared to real time has dropped dramatically recently?  Since being shot and found, Alex has spent about 6 months in 1981/2.  Suddenly she is found and the time between the ambulance arriving and them finishing the (presumably) several hour long surgery was only a matter of weeks (at most) in 1982.  Let's assume she was found within the 'golden hour', that was 6 months in the 1980s, for an hour in 2008.  Then, for presumably several hours in 2008, she only lives through a few weeks in 1982.  Most of that was before they took the bullet out, too, in case we think that is the cause.  Adrenaline dropping?  Does Martin Summers experience 1982 time at the same speed as Alex now does?  I doubt they'll ever talk about that in the series!
So, pretty light speculation in the end.  I have more questions than theories.  Let's see what answers the final episode of Ashes to Ashes season two brings tomorrow!