Podcast: Download (Duration: 1:41:49 — 58.3MB)
Subscribe: iTunes | Android | RSS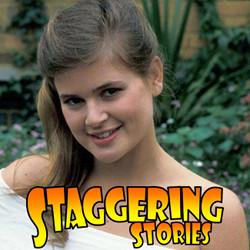 Summary:
Adam J Purcell, Andy Simpkins, Fake Keith, Jean Riddler and the Real Keith Dunn talk about the Doctor Who's Ace and the new Dirk Gently TV episodes, have a round of Tea Duelling and some more Things in Five Words, find some general news and a variety of other stuff, specifically:
00:00 – Intro and theme tune.
01:06 — Welcome!
01:56 – News:
02:09 — Doctor Who: New companion cast – Jenna-Louise Coleman.
09:01 — Percy Jackson 2: Nathan Fillion and Anthony Head cast.
10:35 — Doctor Who: Six more Target reprints coming.
11:26 — RTD: Aliens vs Wizards becomes Wizards vs Aliens.
12:16 — The Hobbit: Ian McKellen and Stephen Fry save a pub.
14:39 – Things in Five Words.
18:56 – Doctor Who: Ace.
38:00 – Tea Duelling.
50:41 – Podcast Anniversary: Join us in a trip to Cardiff, with Live Podcasting! (Sunday 24th June 2012)
54:36 – Dirk Gently.
62:51 – Emails and listener feedback.* Hit us yourself at show@StaggeringStories.net
97:49 – Farewell for this podcast!
98:14 — End theme, disclaimer, copyright, etc.
Vital Links: