Podcast: Download (Duration: 57:09 — 32.7MB)
Subscribe: RSS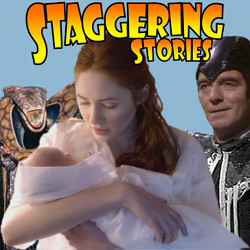 Summary:
Adam J Purcell, Andy Simpkins, Fake Keith and the Real Keith Dunn talk about Story Arcs mainly in Doctor Who but also in the likes of Babylon 5 and Buffy, find some general news, and a variety of other stuff, specifically:
00:00 – Intro and theme tune.
00:52 — Welcome!
01:56 – News:
02:03 — Torchwood: Miracle Day finally coming to the UK.
03:45 — Torchwood: The Lost Files radio plays coming to BBC Radio 4.
04:36 — Big Finish: More Doctor Who coming and new Blake's 7 audios and books.
07:03 — Doctor Who: Gillan and Smith at San Diego Comic Con.
08:11 – Doctor Who: Story Arcs.
30:39 – Flashing the the Park 2.
32:22 – Emails and listener feedback.* Hit us yourself at show@StaggeringStories.net
52:52 – Farewell for this podcast!
53:23 — End theme, disclaimer, copyright, etc.
Vital Links: