Podcast: Download (Duration: 1:41:11 — 57.9MB)
Subscribe: RSS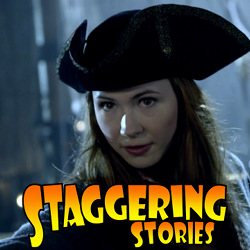 Summary:
Adam J Purcell, Andy Simpkins, Fake Keith and the Real Keith Dunn talk about the new Doctor Who episodes Day of the Moon and The Curse of the Black Spot, find some general news, and a variety of other stuff, specifically:
00:00 – Intro and theme tune.
01:22 — Welcome!
01:58 – News:
02:06 — Doctor Who: The Impossible Astronaut ratings were excellent.
04:53 — BAFTA Nominations: Matt Smith for Doctor Who and other nominations for Misfits, Being Human and Sherlock.
06:00 — Primeval: Back on UK screens, on cable channel Watch, on May 24th 2011.
06:20 — Sarah Jane Adventures: No new episodes to be shot but existing unaired ones will be screened.
07:50 — William Shatner: The Shat is going to dramatically interpret classic rock music.
11:59 — Misfits: New character, Rudy, is to be played by Joe Gilgun.
13:29 – Doctor Who: Day of the Moon.
35:55 – Doctor Who: The Curse of the Black Spot.
50:28 – 30 Second Recommendation: Staggering Stories.
51:29 – Emails and listener feedback.* Hit us yourself at show@StaggeringStories.net
95:33 – Farewell for this podcast!
96:16 — End theme, disclaimer, copyright, etc.
Vital Links: